On October 29, 2021, Karina Alma (formerly Oliva Alvarado), Assistant Professor of Chicana/o and Central American Studies at UCLA, will give a virtual public lecture entitled "Memory Coherence and Rupture: U.S. Central American Subject Formations" as part of CalArts' Aesthetics and Politics Lecture Series. The talk can be a viewed live at 7:00 pm PST (as well as streamed anytime after) on the Aesthetic and Politics YouTube channel.
Born in El Salvador, Alma's work "critiques systems of race-class-gender that intersect un/documented people and migrations as outcomes of neoliberalism, settler neocolonialism and anti-Central Americanism."1 She is also the author of the essay "Cultural Memory and Making by US Central Americans," published in the journal Latino Studies, in which she examines the work of three artists from the Central American U.S. diaspora, who through using "counterpoetics, countervisuals, and counternarratives,"2 rebuild and regain personal and cultural memories in order to heal generational traumas and overcome suppressive histories.
The Prime Directive
For me, there is a kind of dichotomous discomfort tugging at my conscious when it comes to writing about this particular lecturer and about the topic of intergenerational memories of Central American U.S. diasporas. On one hand, I am not part of these Latinx communities, therefore it's not my "right" or my "story" to tell, especially on such sensitive subject matter. On the other hand, however, I happen to be a direct casualty of similar intergenerational traumas of hegemonic abuse due to civil war and displacement, albeit it being in a different part of the world, from a different history and of a different (third) generation. The latter has also molded me not only into an explorer of similar healing methodologies through artistic practice, but furthermore into a seeker of avenues which may lead to spaces, be those natural or constructed, that allow one to move beyond the trap of such patrimonial damage.
The Alpha Quadrant
In the aforementioned essay, Alma refers to the work of Columbia University professor Marianne Hirsh — more specifically to her influential work on "postmemory." In the 2008 essay "The Generation of Postmemory," published in the journal Poetics Today, Hirsh focuses on the remembrance of the Holocaust and describes the concept of postmemory as the relationship of the second generation of survivors to powerful and traumatic experiences, which even though preceded their births were transmitted to them so acutely as to imply memories of their own.3
What struck me the most about Hirsch's text was the passage where she critiques the effects of postmemory's dynamic as "looking backward rather than ahead, [thus] defining the present in relation to a troubled past rather than initiating new paradigms (ibid.)." Just the use of the prefix "post" in the term suggests not only a mere temporal lag, but an actual continuation and an undeniable, while still unbroken, tether to the past. In a similar way, even though Karina Alma's essay, as well as the work of the three artists which she explores with care and sensitivity in it, attempts to break down the entrapment created by postmemory and undertakes the important task of creating a healing methodology of reconstruction and reclaim, both through critical analysis and artistic practice, it seems to stop short of looking into the future and building that new paradigm of moving forward. However, the curatorial research and programming for Intergalactix: Against Isolation, a recent exhibition at Los Angeles Contemporary Exhibitions (LACE), which has turned into a long-term project for the art organization's curator Daniela Lieja Quintanar and her collaborators, does exactly that — takes the next leap into the future.
The Delta Quadrant
Inspired by the Zapatistas'4 "Encuentro Intergaláctico" (Intergalactic Gathering), a 1996 forum opposing neoliberalism that summoned the "attendance of any life form in and out of our galaxy," which created a network of solidarity and defiance, Intergalactix: Against Isolation is an exhibition that coalesces artworks and projects which examine violence induced by both visible and invisible borders, as well as (and as a result of) harsh immigration policies.5 In other words, Intergalactix presents a response "against isolation," the latter being a form of erasure by hegemonic political and economic powers, through building coalitions and creating networks of collaborators as forms (and strategies) of resistance across regions of Mexico, Central America (more specifically Guatemala, El Salvador, and Honduras), their diasporas and beyond.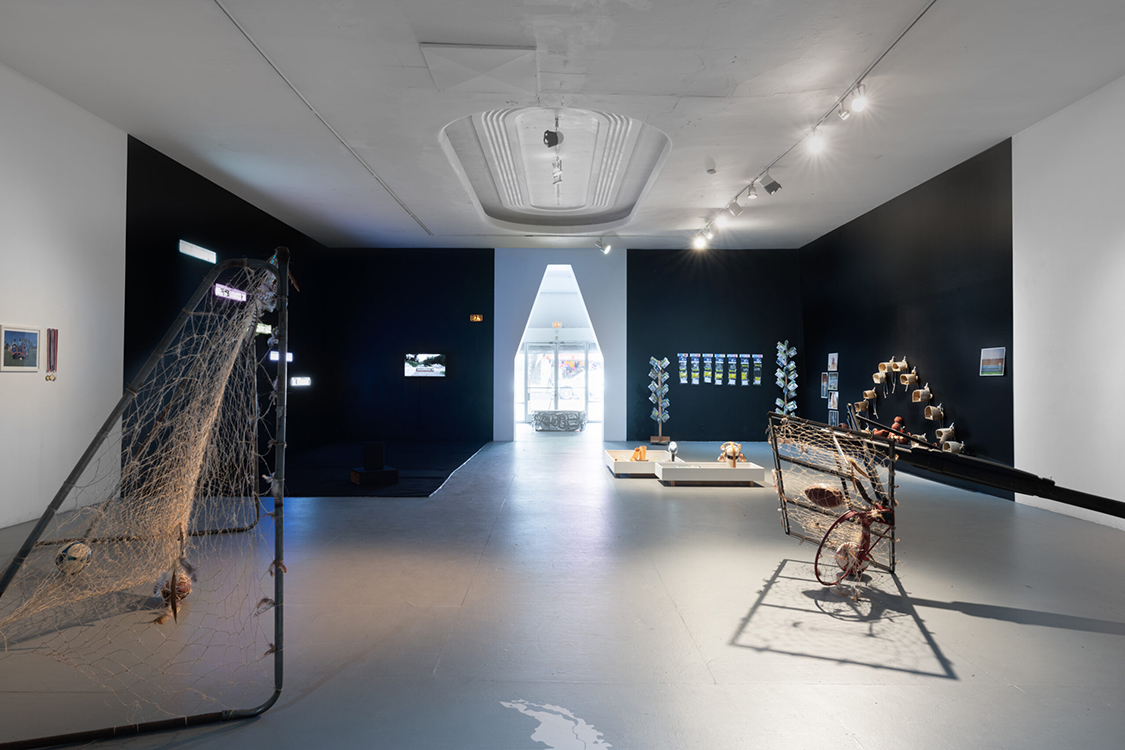 On view at LACE from May 15 – August 14, 2021, this exchange among artists, poets, activists, curators and writers includes The Fire Theory, Tanya Aguiñiga, Cog•nate Collective, Beatriz Cortez, Kaqjay Moloj and FIEBRE Ediciones (ibid.), among others, all working intersectionally and collaboratively. However, rather than as an exhibition, I would like to talk about Intergalactix as a curatorial research project, which extends beyond the confines of the gallery space, both physically as well as temporally, and thus strengthens that collaborative network of resistance inaugurated even before the exhibition and lasting infinitely after it.
For one thing, this project is a master "exercise in collectivity."6 In a conversation for Terremoto magazine with Claudia Pretelin, one of her curatorial collaborators, Lieja Quintanar points out that a challenge in curating contemporary art is that it "constantly leads you to individual work. (ibid.)" In contrast, the process in Intergalactix is self-selecting, in a way disposing of the traditional curatorial model of the "erudite connoisseur," as well as truly focusing on the communal. One way of strengthening the latter is by creating what Lieja Quintanar calls "maps" — genealogies of collaborative practices which merge a type of visual or conceptual retrospective exercise, consisting either of purging toxic memories or replacing erased ones, with building an archive, whether intended for research or simply as a communal history. The latest such collective process, Map 6, entitled "Genealogy of Collaborations: Archives, Maps, Reciprocities," 7 and curated by Helena Braunštajn, connects Intergalactix with the Balkan region and former Yugoslavia, setting up a precedent of building alliances with, and including, other global communities into this ongoing research.
In addition, Intergalactix embraces a kind of "Latino-Futurism," not only through the Zapatistas' inspiration of an "intergalactic network," plus their geo-political connection to the project, but one along the lines of Sun Ra's Afro-Futurism, in which he combined ancient spiritual practices with science, thus inventing not only his own mythology, but also a more realistic science fiction than what mainstream culture offered at the time.8 In a similar way, the collaborators of Intergalactix look into "our cosmic condition" by embracing indigenous cultures, as well as their wisdom and healing methodologies, while at the same time creating a visual language and an innovative vision of a future without oppressive systems and violence against the disenfranchised. These seemingly contradictory approaches are manifested most visibly in the materiality of the work of Tanya Aguiñiga — from her clay/soil copal burners (portable alters) created with migrants of the LGBTQ+ community for Intergalactix to the futuristic, glass "space suit," inspired by Mesoamerican imagery, in her performance work "Metabolizing the Border." 9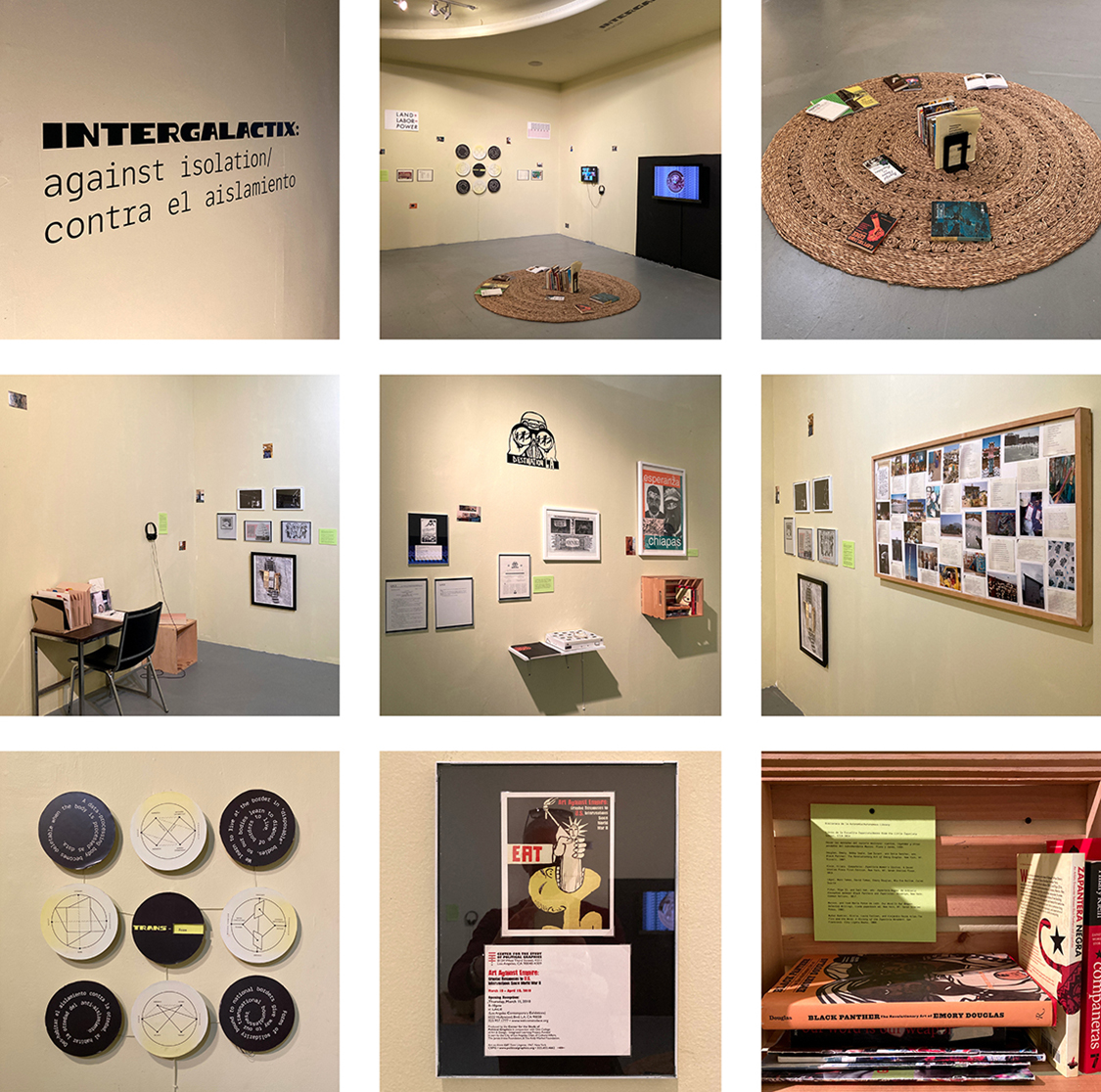 Finally, Intergalactix has found a way of operating in a unique space, which exists in "the between." I'm not necessarily talking about those theoretical spaces that occupy similar realms, unlike José Esteban Muñoz's unattainable "queerness,"10 or Chiara Bottici's anarcha-feminist "imaginal," 11 although there is certainly some of both in Intergalactix. As Daniela Lieja Quintanar has indicated, this collaborative project "erases geographies in order to focus on diasporas, those that (trans)form, move from one place to another and reconfigure themselves through time and space."6 And that has allowed Intergalactix to accomplish the difficult task of finding, in addition to the theoretical, a tangible, physical manifestation of being able to exist on the crossroads (or in the between) — in a sense, of belonging to a specific place while not belonging, or of being visible while invisible. That is the true strength of this project, as a space in which a resistance operates best, a space from which one is able to take a leap beyond. And that is also a space that I constantly seek myself.
Warp Speed Ahead
By focusing on the communal and by building collective artistic/cultural genealogies in its curatorial research, Intergalactix is not only interested in searching for what has been erased by colonial systems and for the possibility of generating memories from "within specters and the imagination," 6 but in building a collective network of artists and cultural workers between the U.S. diasporas, Central America and beyond. And through its intersectional positioning, one best suited for a network of resistance, this collective structure is able to respond to political and social crisis in real time, thus allowing it to brake the generational trap of postmemory and build that new paradigm of the present, the importance of which Marianne Hirsh stressed in her writing. In a way, just like the Zapatistas or the Afrofuturists, Intergalactix becomes a kind of "united federation" which has the grand potential of moving humanity towards a galactic future of "decolonized cosmovision."
The Intergalactix Research Room (shown above) is on view at LACE through November 7, 2021. Intergalactix Station's programming continues through December, 2021 and beyond.
Footnotes: