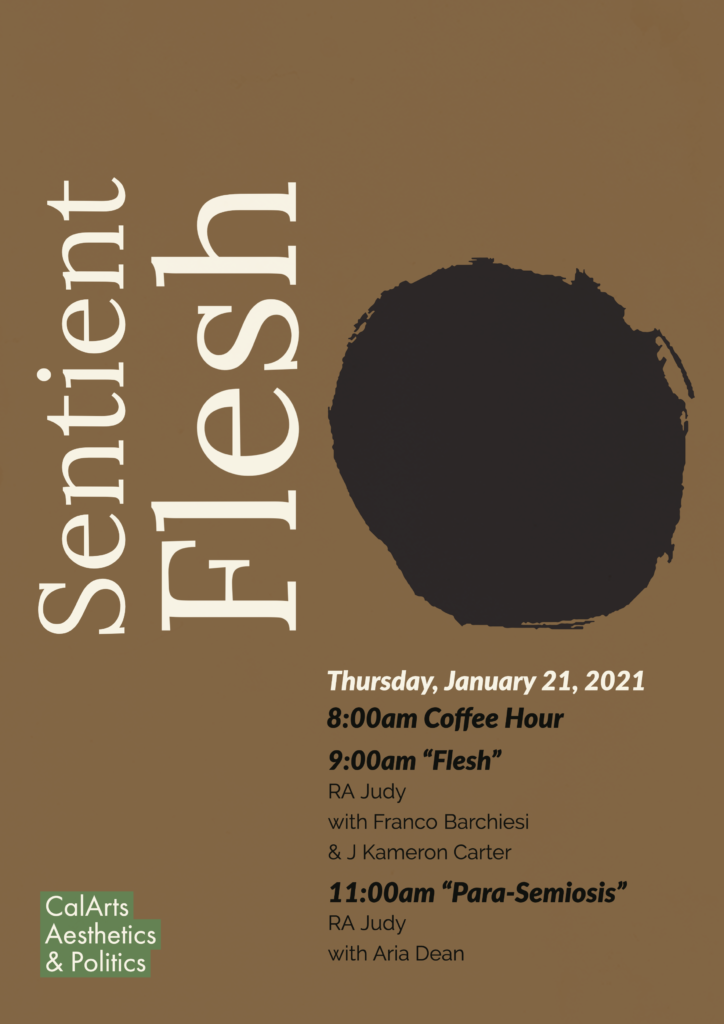 Join us on the morning of Thursday, January 21st for an exploration of R.A. Judy's study of poiēsis in black, his monumental book Sentient Flesh (Duke, 2020).
As an incomparable scholar of Black Study, Judy composes the book as a set of ostinato riffs on blackness as it has moved across "literary genre—short stories, novels, poetry—literary theory and philology; structuralism and semiotics; anthropology and ethnography; foundations of mathematics and number theory; philosophy, from classical Greek to twentieth-century phenomenology and existentialism, and the history of ideas; Arabic philosophy and scholasticism; music—spirituals, "folk music," blues and jazz—and ethnomusicology; political economy and legislative history" (xiii). Their purpose, offering an animating materiality that crosses the threshold of this world into the next.
It is our pleasure to host an exploration of this profound work in two sessions.
8:00 AM PST Zoom Coffee Hour. RSVP here: https://forms.gle/HxCNR7E6HghhXd9E8
9:00 AM "Flesh," a reading with R.A. Judy followed by remarks by Franco Barchiesi and J. Kameron Carter
11:00 AM "Para-semiosis," a reading with R.A. Judy followed by a dialogue with Aria Dean
View the conference and join the conversation on YouTube at: https://www.youtube.com/c/AestheticsandPolitics
The mini-conference is being hosted by the California Institute of the Arts School of Critical Studies and MA Program in Aesthetics and Politics.
R.A. Judy is Professor of Critical and Cultural Studies in the Department of English at the University of Pittsburgh, and a member of the boundary 2 editorial collective, where he has edited the 2012 collection of writings by Tunisian activist, The Tunisia Dossier, as well as a special volume on W.E.B. Du Bois, Sociology Hesitant: W. E. B. Du Bois's Dynamic Thinking, which received honorary mention in the 2001 Council of Editors of Learned Journals' Best Special Issue Award category. His published scholarship spans multiple fields from Arabic literature and Islamicate thought to critical race theory and black studies. He authored the ground-breaking book, (Dis)forming the American Canon: The Vernacular of African Arabic American Slave Narrative. Some of his more prominent publications include: "Restless Flying from Tunisia to Haiti, A Black study of Revolutionary Humanism," "The Question of Nigga Authenticity," "Kant and the Negro," "Dreaming About the Singularity of the New Middle Ages: Three Provisional Notes on the Question of Imagination," and "Fanon's Body of Black Experience." His latest book is Sentient Flesh (Thinking in Disorder/Poiēsis in Black).
J. Kameron Carter is Professor of Religious Studies at Indiana University Bloomington. Drawing on the tools and resources of religious studies, philosophical and political theology, and aesthetics, he works in black studies with attention on the theory and practice of blackness. More specifically, his research concerns what he calls the dissident sacred or that fugitive sacrality that is internal to black social life. He is the author of Race: A Theological Account (New York: Oxford University Press) and The Religion of Whiteness (forthcoming). Additionally, his book manuscript Black Rapture: A Poetics of the Sacred is in the final stages of preparation.
Franco Barchiesi is an Associate Professor in the Department of Comparative Studies and the Department of African American and African Studies at Ohio State University. He has also taught at the University of the Witwatersrand, Johannesburg (where he received his Ph.D. in Sociology), the University of Bologna (Italy), and Brooklyn College, City University of New York. He is a former Larry Donnell Andrews Fellow at the Hutchins Center for African and African American Research, Harvard University and a current Senior Editor of the journal "International Labor and Working-Class History". Barchiesi's latest book, Precarious Liberation: Workers, the State, and Contested Social Citizenship in Postapartheid South Africa (State University of New York Press, 2011) is a recipient of the CLR James Award from the Working-Class Studies Association. Barchiesi is now working on two book projects, one theorizing the concept of precarity through Black radical theory's engagement with the implications of wage labor in racial domination and antiblackness, the other studying how the connection between wage labor and antiblack violence constitutively defined, in the transatlantic space of the late nineteenth and early twentieth centuries, liberalism as the dominant contemporary political paradigm of domination, agency, and conflict.
Aria Dean is a New York-based visual artist and writer. She was recently Editor and Curator at Rhizome, the leading art organization dedicated to born-digital art and culture. Her editorial program with Rhizome explored topics developed in conversation with artists and researchers through public events, publishing, online exhibitions, commissions, and preservation. Dean's writing has appeared in publications including Artforum, Art in America, e-flux, The New Inquiry, X-TRA Contemporary Art Quarterly, Spike Quarterly, Kaleidoscope Magazine, Texte zur Kunst, and CURA Magazine. Notable projects and writing include "Net Art Anthology," and "Poor Meme, Rich Meme."